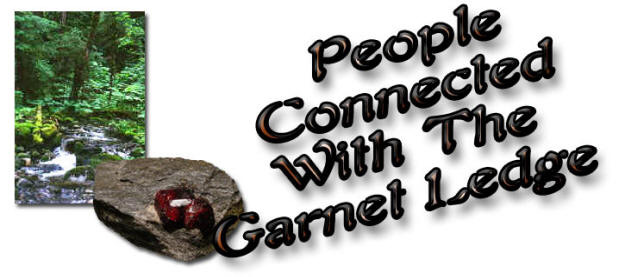 The people listed below were connected to the area of the Wrangell Garnet Ledge either as a claimant or connected to the Alaska Garnet Mining & Manufacturing Co.
In addition, I have added people connected to mining in Arizona where Anna E. Durkee and Mary T. Elmer were involved in a mining operation.
If you have information, photographs, etc. of anyone listed here and would be willing to share it, please contact me.
Please check back as the names are added to this page. Thanks!!!
Wrangell Garnet Ledge Connections
| | |
| --- | --- |
| | |
| Name | Connection |
| Agnes Peterson | Witness on Corporation Papers |
| Wm. T. Coe | Witness on Corporation Papers – Attorney born in Iowa. |
| Alexander Vreatt | Sold Garnet Ledge to Women; acted as agent |
| William Taylor | Sold Garnet Ledge to Women |
| E.E. Griswell or Griswold | Advertising man…take charge of publicity; later noted as assistant manager. |
| Peter C. McCormack | Sold them 38 sq feet and building on Front Street, opposite Inman Boat house building, which he had purchased from F. Collins. |
| Robert .J. Frizell | Charge of work at the ledge for AGM&M 1921 when leased to Western Abrasive Paper Co.; had son with him. |
| Julia E. Duff | Sister of Mary T. Elmer |
| Belle Hazen | Spent summer working for women at Wrangell in office and selling garnets. |
| Mrs. R.D. Currier | Friend of Mrs. Belle Hazen |
| Mrs. Jennie Sanders | Sister of Belle Hazen |
| Agnes K. Seamans | Involved in mining claim with Anna |
| George D. Emery | Attorney in Seattle, and witness on mining claim |
| Rev. J.S. Clark | Acted as their agent & had claim with Anna. Presbyterian Minister in Wrangell. |
| Frank Spaulding | Agent for mine in 1913; trapper up Stikine |
| Charles Nelson | Agent for mine in 1923 |
| Wm. Burgart | Agent for mine in 1914 |
| John Hagstrom | Worked ledge 1909 |
| Mr. And Mrs Maynard Hart | Worked at ledge and were caretakers in 1915; had two children with them |
| Miss Margaret Wilkison | Teacher for Hart children winter of 1915 |
| Captain W.E. Parrott | Farmed on Sergief Island; may have helped out at the mine. |
| Tom and Annie Tamaree | Caretakers at ledge 1916-1919. Annie Tamaree filed lien against corporation for wages not paid after Tom's death. |
| C.C. Lightfoot | Witnessed Brown Claim, Garnet #2 Claim, 1911 |
| E.B. Nichols | Corser Investment Co. – held collateral for Agnes Seamans/Anna Durkee agreement for claim. Firm in Minneapolis, MN |
| Benjamin Hunter | Did work on Ruby Claim in 1910 |
| A.S. ????????? | Did work on Ruby Claim in 1910 – last name not legible |
| Wm. Burgar | Signed as agent in 1914 |
| Arthur Waterbury | Employed by AGM&M in 1916 |
| J.L. Near | Agent on Notice of Appropriation of water in 1923 |
| Kate Irene Schultz | Owner of 100 shares of stock signed by Lettie and Anna on March 1, 1913 |
| Mrs. "Napoleon" Sprague | She was a cook at the mine for AGM&M in 1915. Read about "Muggins" the dog. |
| Dr. Thomas H. Morgan and James H. Cullen | Involved in court case with Anna Durkee and Mary Elmer in California in 1913. |
| Peter C. McCormick | Purchased property from McCormick in 1913. This was a lot for their covered building on Front Street next to the Inman Boat building. |
The following people were involved in the Dardanelles Mining Company
and later as the reorganized Dardanelles Amalgamated Mines, Inc. in Arizona
| | |
| --- | --- |
| Albert B. Taylor | Portland, Maine. Banker and secretary/treasurer of Dardanelles Mining Co., and later the reorganized Dardanelles Amalgamated Mines, Inc. |
| Fred H. Colvin | New York. President of Dardanelles Mining Co., and later the reorganized Dardanelles Amalgamated Mines, Inc. |
| A. Bailey Johnson | Accountant and paymaster of Dardanelles Amalgamated Mines, Inc. |
| Conklin and Montrose | New York attorneys for Dardanelles, 55 Wall Street (later 63 Wall Street). They were also attorneys who drew up the change of address, etc. for AGM&M Co. |
| Carl G. Krook | Kingman, AZ. Also an attorney for the Dardanelles mining operation. |
| E. Ford Eaton | Engineer and foreman of Dardanelles mining operation. |
| Edwin O. Daue | Took over for Eaton as engineer and foreman. |
| H.L. McCarn | Chloride. Engineer and resident manager. |
| Charles Lupher | Foreman |
| Ira M. Claunch | Superintendent of operations. |
| C.M. Stoddard | Incorporator at time of reorganization of Dardanelles Amalgamated Mines, Inc. |
| B. Wright | Incorporator at time of reorganization of Dardanelles Amalgamated Mines, Inc. |
| Miss Hilda Liekse | San Francisco. A stockholder who wrote to AZ Geological Survey about status of mine. |